GLOBAL LEADERSHIP SUMMIT 2019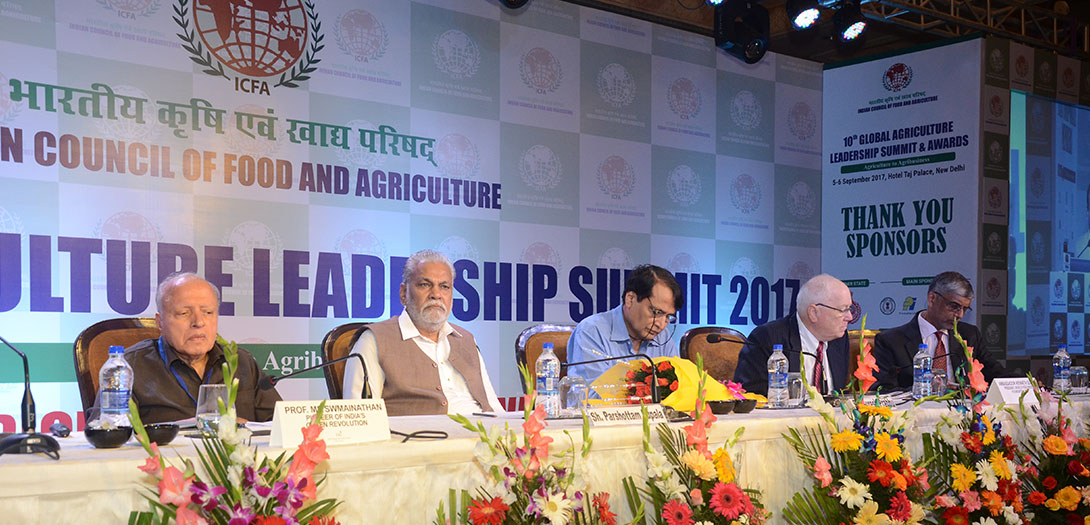 Even after decreased contribution to GDP, agriculture still continues as a major livelihood provider around the globe, especially in the developing world; and hence responsible for economic growth and social transformation. Mammoth work has been done in agriculture in the recent years on the part of the industry, NGOs, CGIAR bodies and institutions, supported by the Government and international organisations to transform the agriculture and allied sectors. The most significant development in the last one decade has been the emergence of large number of start-ups in food and agriculture, across the value chain spectrum, completing the chain from farm to fork. In India, the Government schemes like ACABC, Startup India,Standup India,Skilled India and launch of MUDRA Bank and such other initiatives have accelerated the value creation and entrepreneurship activities in the farm sector and connected the same to the markets and the consumers through innovative agribusiness models.
Connecting farmers effectively with trade, markets and value added activity holds the key to their prosperity. In this context, Government of India has launched eNAM to help in marketing and also the program towards doubling farmers incomes by 2022. There is need for understanding and adopting successful global models and also fostering farmerindustry-institution partnerships towards helping farmers gradually transforming from farmer to farm entrepreneurs. The 12th Global Agriculture Summit 2019 aims to provide the platform towards facilitating farmers connect with the technologies, markets, industry, institutions and the Governmental programs. Indian Council of Food and Agriculture takes the opportunity to discuss the constraints and opportunities for a global momentum towards making agriculture high-tech, market linked and value added for best returns to farmers and to all stake-holders across the food value chain.This may require collective efforts, taking on board the Governments, intergovernmental organisations, trans-national corporations, industry, NGOs, FOs, financial and technology institutions for increased flow of knowledge, technologies, investments and market access. The national governments need to create enabling policy environment for effectively translating the potential of agriculture through agribusiness, and thus empowering farmers. Towards this end, ICFA is bringing together eminent personalities of Indian and global agriculture, food and agribusiness sectors on one platform on the event of 12th Global Agriculture Summit 2019.This spectacle will be combined with the presentation of 12th Global Leadership Awards and the launch of Agriculture Year Book 2019.
Important individuals and institutions, who played pivotal role in building new faiths and ambitions in agriculture will be acknowledged by the Global Leadership Awards 2019. On this occasion, ICFA and Agriculture Today will also release the Agriculture Year Book 2019 for an exhaustive appraisal of activities in food and agriculture round the year. It is must for everyone anyhow associated with food and agriculture via business, research, academics, media, farming, trade, development, policy making, implementation and any other medium across the globe to participate in this amalgamation of events.